Bridesmaid Gift Ideas for Your Wedding Day
A Few of Our Favorite Bridesmaid Gift Ideas
Your girls have been with you through so many milestones and this one is no exception. Though not required, it's customary to give your bridesmaids a gift to thank them for their friendship and for being there for you on your wedding day.
No gift can equal the amount of time they spent with you on the phone crying about your ex or the hours they spent driving to help you move into your first apartment, but any nice gesture will be appreciated.
There are hundreds of places to find great bridesmaid gift ideas, but we love Bridesmaids Gifts Boutique because there are so many options, all in one place, that you can personalize by monogramming and adjusting the colors, patterns and fonts.
Production time and shipping is surprisingly fast so you're in good hands if you've waited until the last minute. No judgement here!
Here are a few of our favorite items from the shop:
Bridal Party Robes
Whether you love the floral look or want something more simple, there are so many bridesmaids robes to choose from. We personally love the flowery robes for their super soft and lightweight cotton fabric. Plus, we love how you can get your girls a colorful option, while snagging a corresponding white version for yourself!
Trendy Bridesmaids Hats
Looking for trendy bridesmaids gifts? If you're the kind of girl who likes to sport the latest fashion looks, the Forever Fedora is perfect for your girls. They can wear them at your bachelorette party, on your wedding day with short dresses and in their daily lives to brunch!
Cute Bachelorette Party Towels
We absolutely love Bridesmaids Gifts Boutique's pool day towels. These trendy circle towels come in three Instagram-worthy prints, including teal and green watercolor tropical leaves, pink and white palms and black and white geometric stripes. Each towel is trimmed in white fringe and can be customized with your girlfriend's names in a beautiful script font. These would be perfect to pass out at a Palm Springs bachelorette party or at your summer wedding.
Personalized Bridesmaid Tumblers
These might be one of our favorite things on the entire site, simply because you know your girlfriend is going to use this thing 24/7. It's functional and there are a billion options: simple, floral, tropical, cheetah, ultra girly and super bling. Each type has the option to personalize with your bridesmaids' names, first initial, monogram, caricature (seriously) or just "bridesmaid." They'll look cute in your getting ready photos and also on their desk at work!
Bridesmaids Box Sets
Bridesmaids proposals have become huge in recent years and these box sets are the perfect way to ask your bestie to be on your side on your wedding day. If you're not into that trend, these boxes are still a thoughtful (and convenient!) way to thank your best friends for their friendship over the years and all of the time and money they've put into being your bridesmaid.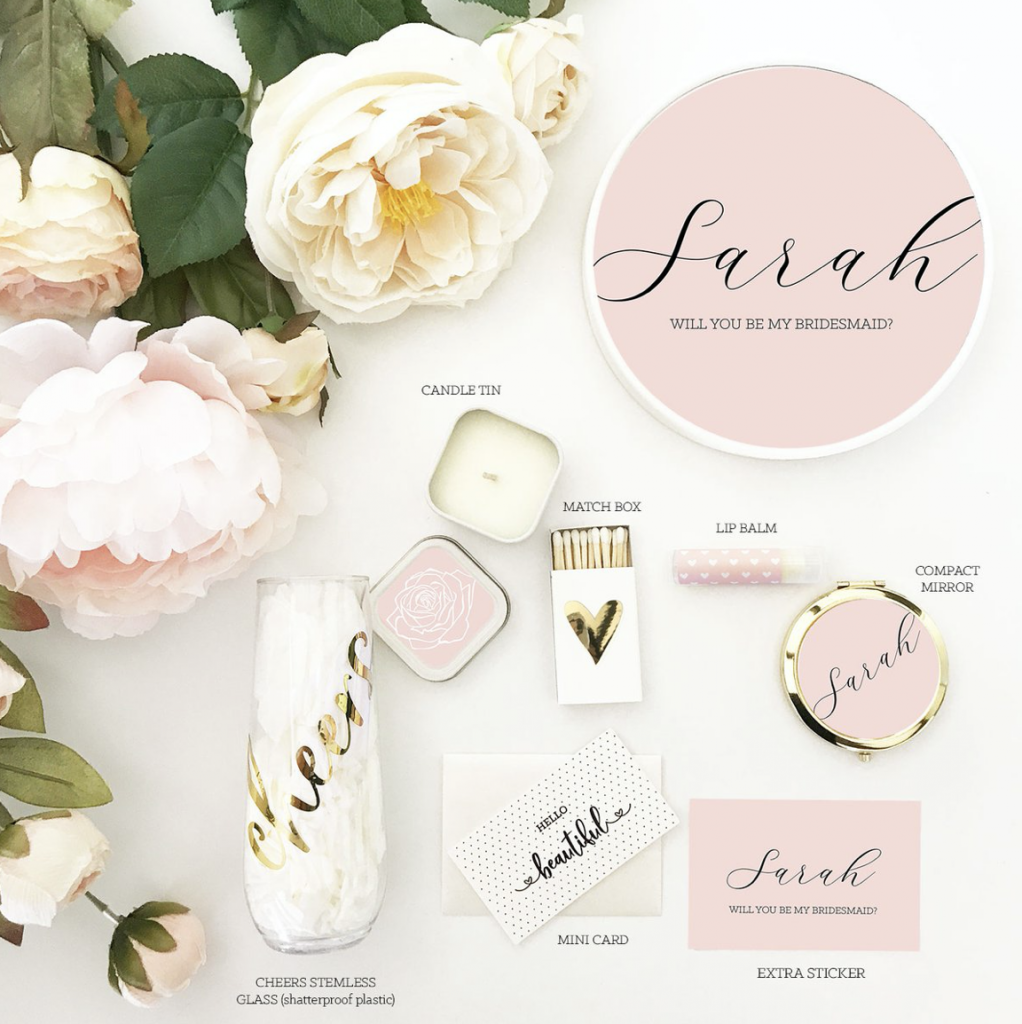 These boxes are unexpectedly inexpensive, with multiple options running from $17 – $35 each. Each set is different and has a theme, but the items inside could include customized tumblers, bridesmaid robes, candles, bath bombs, pocket mirrors, matches, champagne flutes and cute sunnies.
If your guy is also searching for gifts for groomsmen…
Tell your fiance to check out Groovy Guy Gifts. They've got options for the savvy business man, mountain man and even the world traveler in your bridal party.
We received a few free items from Bridesmaids Gift Boutique to review for this post, but all opinions of this review are honest and our own. We truly love this shop!